One year ago we launched our Protect the Planet Collection. As we're always trying here at ISARA to choose the sustainable solution for everything that our daily lives put us through and make a difference for our children's tomorrow, this collection was a dream came true.
One year later, this collection is still one of the most appreciated from our listing and we couldn't not thank you for helping us on our way for a better, healthier world. But the fight continues. Even tough the Planet is put through a lot of challenges lately we shouldn't forget about the older fights we started way back over the years.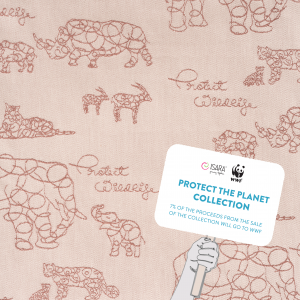 Today is World Elephant Day and this day is special to us and our Protect the Planet Collection, just as they were a source of inspiration and can be found on our Protect The Wildlife Sandy & Terra Patterns.
Here are a few information that reveal just how bad the elephant number decreased over the years and why it is so important to take action NOW.
"Elephant numbers have dropped by 62% over the last decade, and they could be mostly extinct by the end of the next decade. An estimated 100 African elephants are killed each day by poachers seeking ivory, meat and body parts, leaving only 400,000 remaining. An insatiable lust for ivory products in the Asian market makes the illegal ivory trade extremely profitable, and has led to the slaughter of tens of thousands of African elephants. Between 2010 and 2014, the price of ivory in China tripled, driving illicit poaching through the roof. If the elephants are to survive, the demand for ivory must be stopped. As of 2011, the world is losing more elephants than the population can reproduce, threatening the future of African elephants across the continent. Bull elephants with big tusks are the main targets and their numbers have been diminished to less than half of the females. Female African elephants have tusks and are also killed, which has a terrible effect on the stability of elephant societies, leaving an increasing number of orphaned baby elephants. There arestill more African elephants being killed for ivory than are being born . . . elephant populations continue to decline." SOURCE: worldelephantday.org.
Support the cause and be actively involved in teaching new generations about the importance of protecting the environment.
*7% of the proceeds from the sale of the collection will go to World Wildlife Fund. #dontletthemdissapear